---
---
LOOKING UP is a 40-page international magazine devoted to autism. Aimed at parents and professionals alike, it is a lively and informative mix of the very latest findings in autism research from around the world and articles which explore the impact of autism in all areas.

We have access to the most up-to-date material in more than a dozen languages concerning possible causes and treatments of autism, together with the latest educational approaches. We publish articles relating to autism in the family, school and further education, employment, film and the other arts, politics, sport and society.

LOOKING UP has interviewed many of the world's leading autism authorities, including:



Dr Lorna Wing, Professor Simon Baron-Cohen, Professor Rita Jordan, Professor Uta Frith, Professor Gary Mesibov, Professor Tony Attwood, Professor Patricia Howlin, Theo Peeters, Professor Christopher Gillberg, Professor Tony Charman and Professor Digby Tantam,



as well as some of the most prominent individuals on the autism spectrum, including:



Dr Temple Grandin, Donna Williams, Wendy Lawson, Stephen Wiltshire and Ros Blackburn.

In addition to the 40-page print edition, we have a 16-page PDF edition of Looking Up, starting with Volume 5, Number 1. As well as in English, the PDF edition of Looking Up is also available in Russian, Hindi, Urdu and Chinese (Mandarin)

The PDF edition consists of selected articles, with additional colour, from the full 40-page print edition.

Here is the front cover of the latest 40-page print edition. Click on the cover for information about all back issues of the print edition of Looking Up.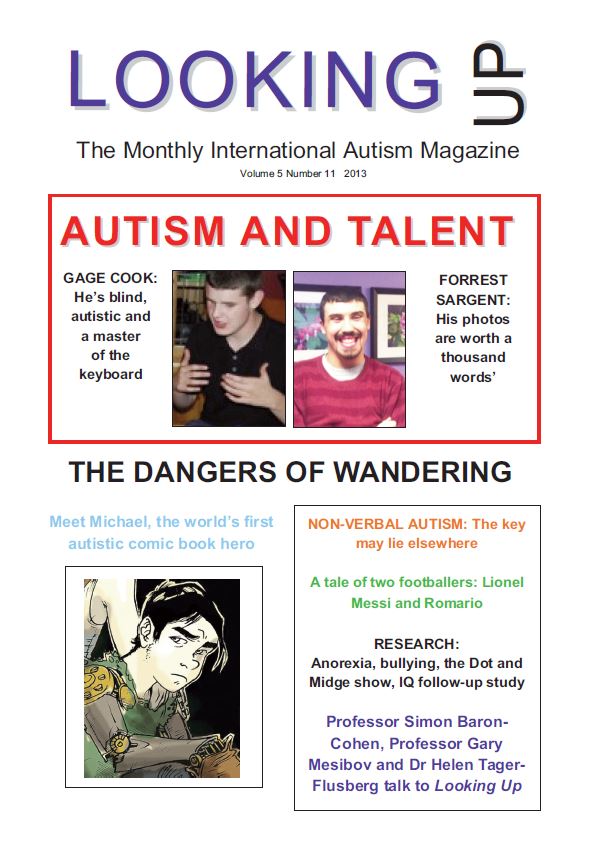 We have a page of book recommendations by the editor. We also have a Google group for news and announcements relating to Looking Up and autism.
If are interested in subscribing, or wish to order back issues, follow this link to our subscription page.
Search our autism pages
Privacy
We use third-party advertising companies to serve ads when you visit our website. These companies may use information (not including your name, address, email address or telephone number) about your visits to this and other websites in order to provide advertisements about goods and services of interest to you. If you would like more information about this practice and would like to know your options in relation to·not having this information used by these companies, click here.
Copyright declaration
Materials available from these web pages are copyright © AFPublications.org unless otherwise stated.